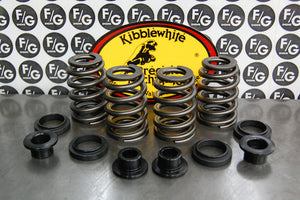 Kibblewhite Precision Machining
Triumph 650 beehive racing valve spring kit
Regular price
$142.82
$0.00
This beehive spring kit for the Triumph 650 is not just for racing.
No longer "exotic", beehive valve springs are now used by GM, Ford, Harley, and many others in OEM performance applications. This kit is a great way to control your valvetrain and increase rpm.

Beehive springs eliminate the need for dual springs, reduce the weight of both the spring itself and the valve collar, and eliminate the damaging harmonics and valve spring surge found in traditional valve springs. This kit will support up to .400" cam lift, and installs at 90# seat pressure at 1.380" (actual installed height may vary). This kit is suitable for all Triumph 650 heads, pre unit and unit construction.
This kit includes 4 beehive springs, 4 HT steel retainers, and 4 HT lower collars.
This kit uses stock Triumph keepers(not included).
if needed new keepers may be added above.
---
More from this collection