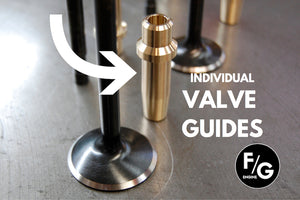 Kibblewhite Precision Machining
Individual 650 / 750 Triumph valve guides
Regular price
$14.34
$0.00
If you need individual guides, the 650 / 750 guides are available in two materials, C630 bronze and Manganese bronze. These guides are to be used for both intake and exhaust applications. For those wanting a valve stem seal, manganese bronze guides are available already machined for a viton seal.
Please note that C630 Bronze guides are undersized and must be finish honed, not reamed. Manganese Bronze guides may be reamed to size.
C67410 Manganese bronze are able to be sized with a reamer, unlike C630 bronze guides. The manganese bronze guides were developed for easier machining, and still have excellent longevity.

Positive valve seals are optional but can be ordered only with manganese bronze  guides that are machined for a seal. When installed with the recommended .001" clearance a seal will not be necessary. If you need individual guides, select the type and size from the menu below.
---
More from this collection