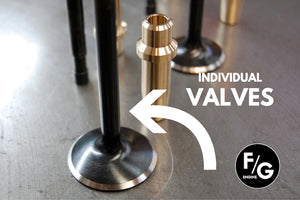 Kibblewhite Precision Machining
Individual 650 /750 Triumph Valves
Regular price
$21.49
$0.00
Need only two valves or a size that isn't in one of our kits?
Kibblewhite Black Diamond™ valves are the best you can get for your Triumph motorcycle. These specially impregnated forged stainless valves have proven to have superior wear resistance and reduced friction than hard chrome or nickel plating.
Kibblewhite Stainless OEM valves are one piece forgings with uncoated stems. Identical in size and form as the famous Black Diamond Triumph valves, they are an excellent choice when a coated stem is not necessary.
The most common 650 and 750 valve sizes are 1.600" intake and 1.440" exhaust. Early Unit 650 heads and some Pre Unit 650 used a 1.500" intake and 1.343" exhaust. If you have any questions please contact the shop. If you need individual Triumph valves, use the drop down menu to select.

---
More from this collection