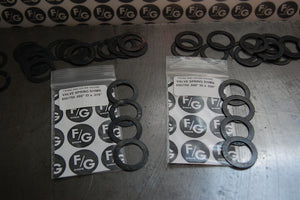 Franz and Grubb Engine
Triumph 650 750 valve spring shims
Regular price
$2.88
$0.00
These non serrated shims are for adjusting spring height during installation. Valve springs can be shimmed to make up for lost pressure, or to balance the difference between valves.
Non-serrated shims do not damage the spring pad area on aluminum cylinder heads. They also lay flat and do not create harmonics or unwanted lateral loads on the valve or guide.
Shims are .688" ID x1.00" OD, for adjusting spring installed height on 650 and 750 heads, also Pre Unit 500 and 650.  Set of four .030" or .015" valve spring shims  Use as required.
These hard to find sizes are also available in a shop pack.
---
More from this collection