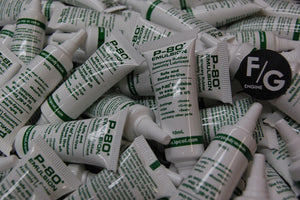 Franz and Grubb Engine
P-80 Emulsion Temporary Rubber Lubricant
Regular price
$4.99
$0.00
P-80 Emulsion is a temporary rubber lubricant that will reduce the friction of rubber by 70%. After installation it will dry with no residue, and will not reactivate. It is extremely helpful in installing O Rings, oil seals, hoses, grommets, hand grips, and more. Anyone who does not have this in their tool box is missing out.
  Installation of oil seals is generally hard due to the rubber sticking to the base metal. By reducing the friction, you can insure that the seals will go in easily and undamaged. We have seen a lot of seals which are either not in all the way or they are not square or perpendicular to the shaft.
John Healy of Coventry Spares advised the use of this years ago and I have never installed a seal without it since.
Improper seal installation is recognized as one of the leading causes of seal failure! P-80 Emulsion will usually dry within an hour. It is biodegradable and non-toxic. Every British bike owner should have a tube in their toolbox.
This 10ml tube (0.33oz) is small and resealable, a little goes a long way.
---
More from this collection