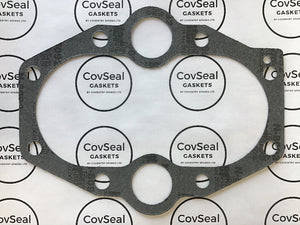 F/G Global Sealant Division
Triumph Unit 650 750 base gasket 1967-1980 CovSeal
Regular price
$3.46
$0.00
The pink, green, and blue gaskets made for the Triumph twins are most likely made by people who never tried to install them. Those colors belong in the circus... and not on one of the best engines Triumph ever produced.

These base gaskets are made in USA by Coventry Spares Ltd. The high quality and temperature resistance, torque retention, and accurate fit make the CovSeal gaskets a great value. This material will not squeeze out as some gaskets made of fiber can.
 InterFace N8092 is a nonasbestos material made of reinforced cellulose fiber with a nitrile rubber binder. No sealant of any type is needed, and this USA made material has excellent sealing properties.

This will fit TR6 Trophy, T120 Bonneville, TR7 Trophy, and Bonneville T140 models, 650 and 750 with an oil feed to the exhaust tappet. Also available is a top end gasket kit for these engines which includes this base gasket.
This base gasket replaces Triumph part # 70-6309 or E6309, and is .020" thick before compression.
These gaskets were proudly manufactured in the USA, with materials from the USA by Coventry Spares Ltd.

---
More from this collection