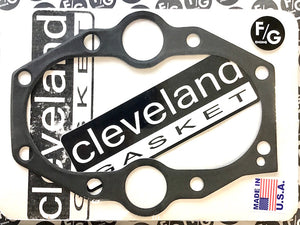 F/G Global Sealant Division
Triumph Unit 650 & 750 base gasket 1966-1980
Regular price
$9.38
$0.00
The pink, green, and blue gaskets made for the Triumph twins are most likely made by people who never tried to install them. Those colors belong in the circus... and not on one of the best engines Triumph ever produced.

These are aluminum core with a nitrile rubber bonded to both sides. This AFM gasket material has excellent temperature resistance, torque retention, and will not squeeze out as some gaskets made of fiber can.
 It is the most highly engineered and effective Triumph base gasket ever made.

No sealant of any type is needed, and due to the high rate of recovery when disassembled, in most cases the gaskets can be reused.
This will fit TR6 Trophy, Bonneville T120, TR7, and T140, both 650 and 750 models with an oil feed to the tappet block.  Also available is a top end gasket kit for these engines which includes this base gasket.
This base gasket replaces Triumph part # 70-6309 or E6309, and is .032" thick before compression.
These gaskets were proudly manufactured in the USA, with materials from the USA by Cleveland Gasket® and have been produced with the highest quality materials and technology currently available. 
---
More from this collection