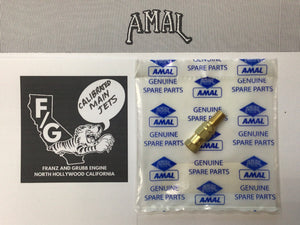 Amal
Amal main jets
Regular price
$7.41
$0.00
Genuine Amal main jets are individually flow tested to insure accuracy!
Stocking sizes 160 to 460, these Amal main jets fit all Monobloc, MK1 Concentric, and MK2 carbs. 
Order single jets or pairs. 
TIP: When tuning main jet sizes it is recommended to skip a size when going up or down. For example if you have a 200 jet that is too lean, try a 220 (instead of a 210), as sometimes changing by one size is barely noticable.
Amal jets are available in sizes 50 to 1900. For any sizes you need that are not in stock please contact the shop or Burlen Fuel Systems.
Made in England
---
More from this collection