VINTAGE TRIUMPH ENGINE SPECIALIST
Since 2007, Franz and Grubb Engine has been dedicated to improving Triumph twin engines.
If you need engine parts, machine work, or technical tips, our experience can save you time, effort, and money.
Vintage Triumph Engine Parts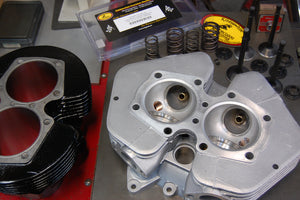 CYLINDER HEAD REBUILDING
A professionally built cylinder head can make all the difference in the power that reaches your rear wheel. Valves, guides, and spring technology have come a long way since these bikes were made.
A modern valve job, when done correctly, will last for years of trouble free performance.
LEARN MORE
ACCURATE CYLINDER BORING
Our dedicated tooling and strict preparation techniques will make sure your cylinder is straight, round, correct, and ready to install.
LEARN MORE
PROVEN HISTORY
Franz and Grubb was formed because shop owner and founder Dan realized that a motorcycle shop and an engine shop are two very different things.
A gearhead with a technical background he became obsessed with making the Triumph twin engine better. Over a decade later the shop is still providing the best quality machine work and parts in the world to a global clientele.
Dan's engines have been in show winning custom and restored Triumphs, and have also set world speed records. Although engine building is less of a focus these days, the same exceptional machine work is still available to builders, shops, and enthusiasts.